Solid moisture resistant interior door. Model Vodoley PDG.101
Solid interior waterproof door covered with ABS plastic. Vodoley PDG.101

Fire-resistance rating: standard
ABS plastic texture: santex Door jamb type: adjustable (split) door jamb, corner door jamb
Door jamb material: aluminum (NORMA, PRIME)
Aluminum frame color: anodized aluminum (silver), powder coating
This solid interior door can be with one, one and half or double leaf.
Water resistant and moisture-proof doors are suitable for toilet and bathroom blocks.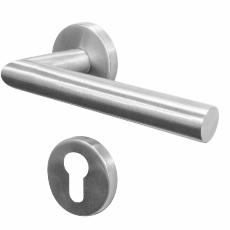 Гарнитур DL 040UR/F PZ L-form
Гарнитур DOORLOCK DL 040UR/F PZ L-form Rt диаметр розетки 50 мм
Материал: нержавеющая сталь
Межосевое расстояние, мм.: Нет
Шток, мм: 8
Противопожарная: Да
Сквозное крепление: Универсальное
Крепление на саморезы: Да
Толщина двери, мм: 35-75
Комплектация: Ручки (2 шт), ключевины (2 шт), шток, стяжные винты (4 шт)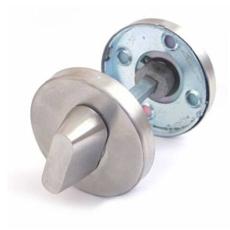 DOORLOCK E08/Y WC Rt 5/8
Поворотная кнопка DOORLOCK E08/Y WC Rt шпиндель 5/8мм, универсальный монтаж
Материал: нержавеющая сталь